Greetings!
I wish to take a few minutes to update you on Go Ye Ministry's efforts to help Haiti recover from the devastating hurricane and to thank you for your prayers and gifts of compassion. Without them, we would not have been able to react swiftly and effectively to heal and help thousands who are broken, injured, hungry and thirsty.
Since the hurricane, Go Ye Ministry has: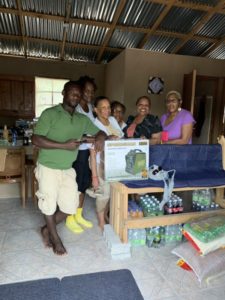 Passed out flu and cold medication to 50+ local Haitians in Les Cayes;
Shipped 2000 pounds of medical and toilet supplies;
Provided food and water to 1000+ individuals, and tarps to Les Cayes and surrounding rural areas;
Organized the collection and distribution of 2000+ pounds of rice and beans for the Southeast region.
Provided emergency seeds to Canadian House underneath the house (population 80+).
Ministered to 8 male youth prisoners and 7 female prisoners (Fond des Noir) and provided monetary funds for toilet articles and food to their account.
Ministered to 4 males prison cells and 1 women's prison cell at correction departmentale Du Sud (Police Nationale D'Haiti – Commissariat Des Cayes- 5000+ prisoners incarcerated) where 9 women gave their lives to Christ. We also provided them with 7 bibles.
Fed a village of parents and kids at "Gelèe". The entire community ate and we celebrated Anita's and Sparkle's birthday by providing birthday cakes to the kids and family.
For 8 days during our mission trip following the earthquake, our Ministry and Pastoral teams were the literal hands and feet of Christ…whether in comforting an injured child or giving rice, beans, spaghetti, spaghetti sauce, cookies, cakes, or several tarps to a family who lost their home and belongings. God was in the mix for changing lives and bringing real hope to those on need.
Ongoing needs: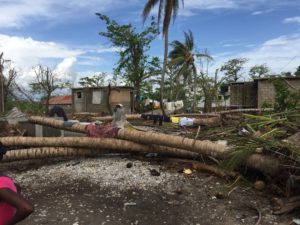 Continue to pray for healing and hope for Haiti. The day we left Les Cayes, children were playing in the streets, old men rebuilding their houses and taking care of the roofs, and women were selling produce in the streets. Everyone had a sense that they would survive by God's grace to see another day and, despite their pain, find the strength to carry on.
If there is a bright light to the destruction disaster brings, it is often a facilitator of mercy, love and compassion which seeks to end the pain others feel and heal the hurts they bear. After all God reached out in love during His own hour of pain and misery, hanging on the cross so that each of us might live in eternity without tears, hurt or sorrow. He was the ultimate act of compassion, one we seek to emulate to those affected by the hurricane.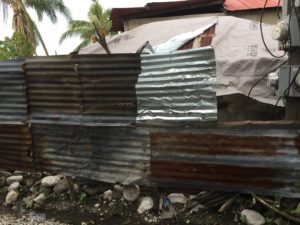 The ongoing needs are tremendous. What broke our hearts were seeing children and families with no make-shift house to go to, or living day-by-day in the street. Most have lost their homes and are forced to live in deplorable conditions such as cardboard, metal sheeting, plastic or whatever they can find. GoYe Ministry has been providing emergency food, and water, as well.
Due to the hurricane, a second disaster has begun to arise in the rural communities, many of which have been cut off by inaccessible roads from Port-Au-Prince, from which they receive 60% of their food. Families are literally starving as they wait for food and water to arrive.
Stories from the Field
Post Hurricane Team: Les Cayes
The chaos and agony reported by the media does little justice to the suffering of the people of Haiti. By God's grace, we came and successfully fed and comforted many children and families.
Our team and partners in Les Cayes were able to address other community needs, as well: Meals were prepared for several areas, and hospital supplies inventoried and dispersed.
The recovery from this calamity is only the beginning; the road for Haiti is sure to be long. Yet, as the Haitian proverb says, "Men anpil chay pa Lou… (Many hands make the load lighter)."
So, you may ask, how was our trip to Haiti? Fast? Good? Sad? Chaotic? Happy? Tiring? Productive? Successful? Yes, it was all of these things. But none of these adjectives alone can fully capture the experience. It was unequivocally fulfilling. And we write to share that you ought to be fulfilled, too. Know that your kindness answered the prayers of the people of Haiti. Know that our hands were simply instruments guided by your love. Above all, know that we are grateful you found us worthy to bring the miracle of "you" to those who, as one victim said, "felt that they were left all alone in this world."
Not so God says!
Thank you,
Fritz Raymond, Chair
Go Ye Ministry Foundation, Inc.